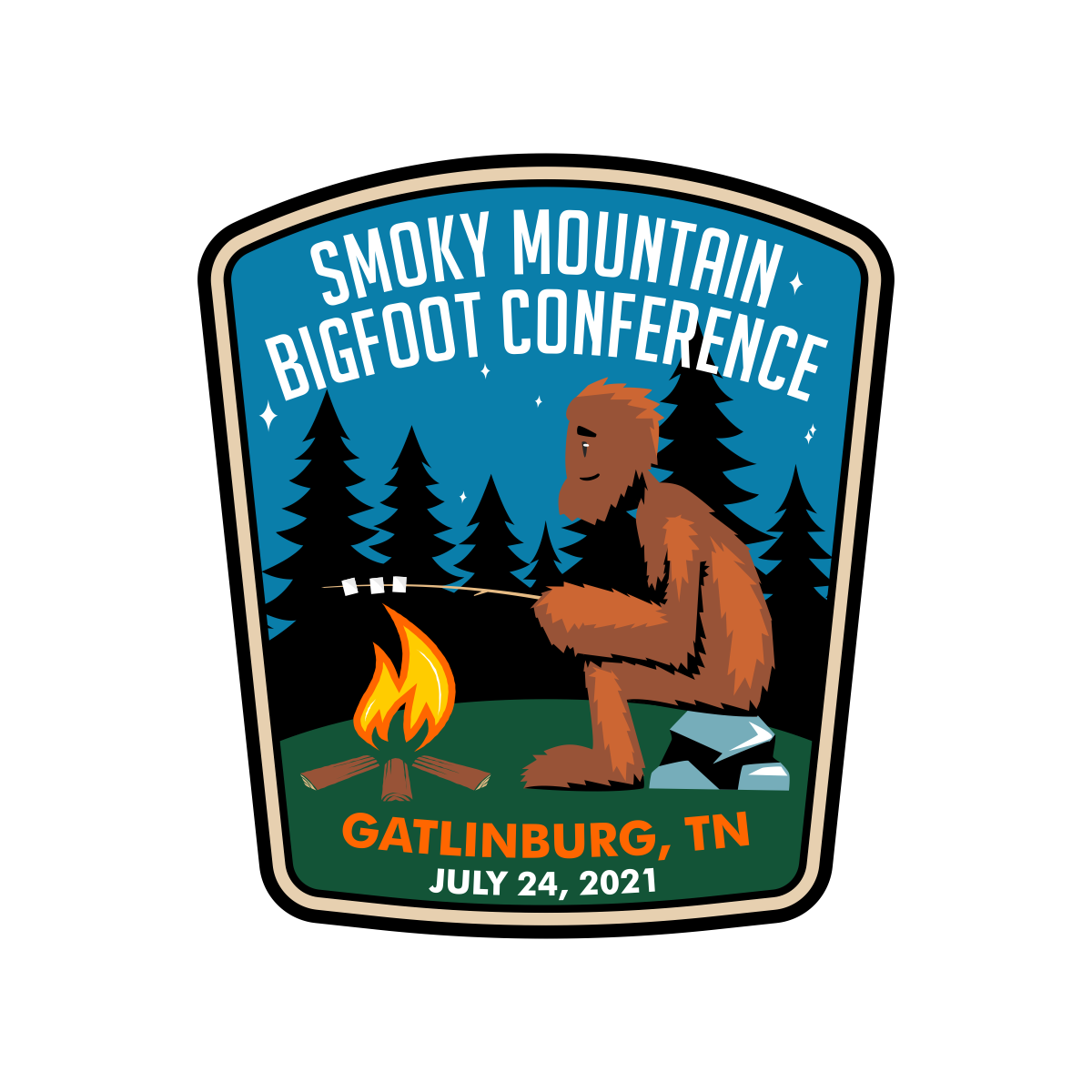 COUNTDOWN TO SMOKY MOUNTAIN BIGFOOT JULY 24, 2021
Smoky Mountain Bigfoot Conference
    * WE ARE SOLD OUT FOR 2021 *
Join us for the third annual Smoky Mountain Bigfoot Conference on July 24, 2021, at the Gatlinburg Convention Center. Doors open at 9 am and we go until 7 pm. This event is open to the public but advance tickets are recommended before they sell out. The 2019 Edition of the conference sold completely out weeks before the conference. VIP seats were gone in less than 72 hours. The 2020 "pandemic" edition of the conference saw over 1200 people in attendance and was well on its way to a 2000-person sellout before the corona-virus concerns. Be sure to reserve your spot as soon as possible.
We will once again assemble some of America's most experienced and engaging Bigfoot researchers and investigators. We will share each addition as soon as it is official. 
We expect the 2021 edition to follow in the footsteps of the first 2 years (hopefully without the side-order of pandemic sauce) and be one of the biggest Bigfoot conferences in the country.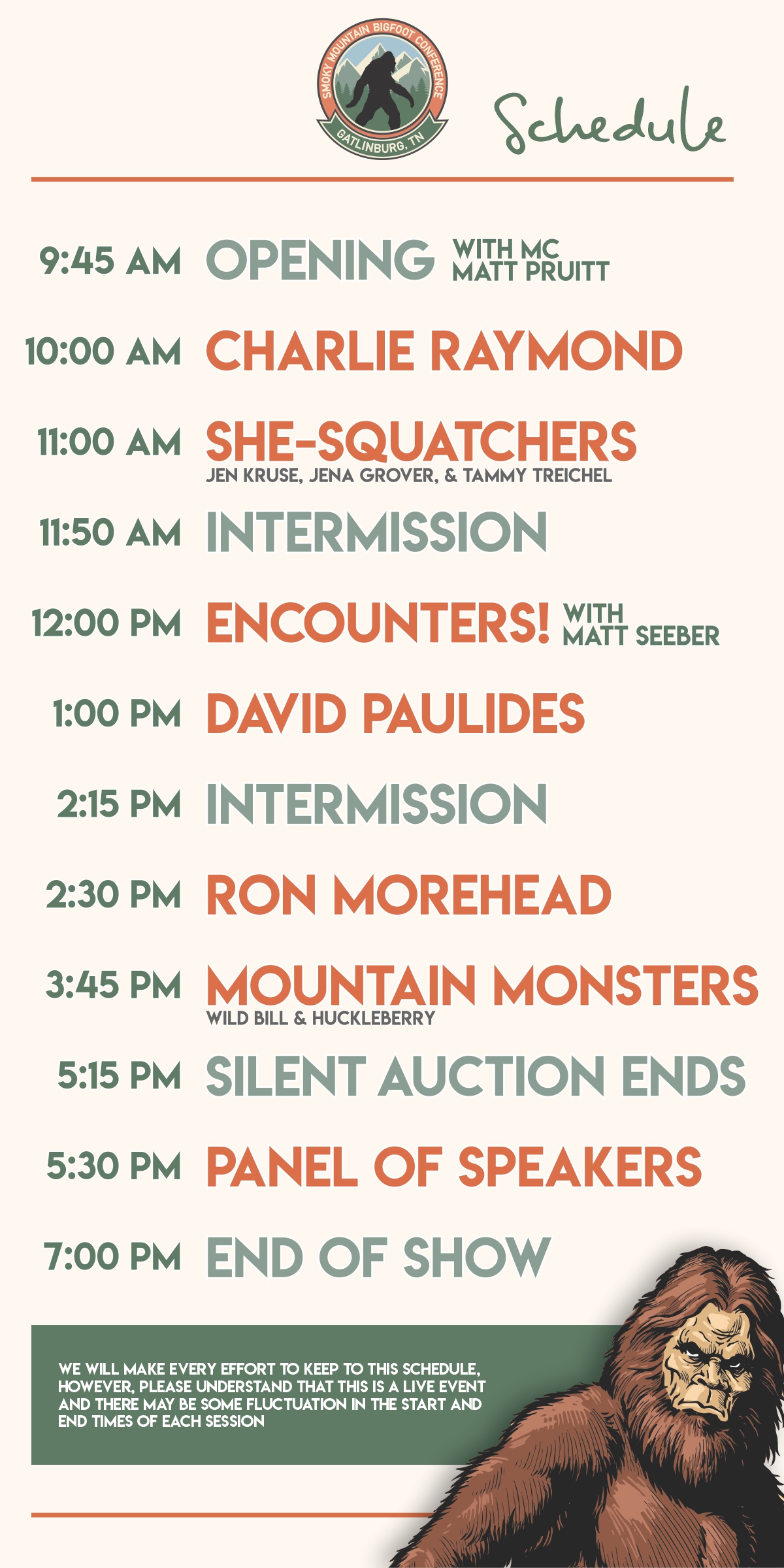 GA Tickets
Buy your general admission
tickets today
Vendor Booths
Reserve you Vendor Booth
Less than 40 spots available
Sponsorships
Prime Sponsorships, Gold Sponsorships and Community Sponsorships available.
David Paulides
Missing 411 | Researcher | Author
David has authored the best-selling series of books on missing people, all titled, Missing 411.  The books led David to produce two documentaries about missing people: 2017- Missing 411-The Movie.
Wild Bill
William Neff | Mountain Monsters | AIMS
"WILD BILL" WILLIAM NEFF
Mountain Monsters cast member and Former Marine and expert trapper, Wild Bill is Willy's right-hand man on the AIMS team.
Huckleberry
Joe Lott | Mountain Monsters | AIMS
Native West Virginian and former marine, Huckleberry is best known as the "head of security" on the Mountain Monsters. 
Ron Morehead
Adventurer | Author | Researcher
Ron Morehead has been known for decades for his world-wide research into the Bigfoot/Sasquatch phenomenon. To date, he comes closer than any other researcher to having a complete body of evidence. His "Sierra Sounds" are the only Bigfoot recordings that have been scientifically studied, time-tested, and accredited as genuine. Ron has documented his personal interactions with these giant beings and produced his story on a CD and also in a book, "Voices in the Wilderness."
Charlie Raymond
Field Researcher | KBRO
Charlie has been researching Bigfoots in Kentucky for over three decades and has interviewed well over 300 credible eye-witnesses. As a passionate, die-hard, boots-on-the-ground researcher, he leads numerous private and public expeditions, acquiring a wealth of knowledge and evidence in the process. Recently he published his first book, Bluegrass Bigfoot: Encounters With The Kentucky Wildman
Matt Pruitt (MC)
Researcher | Author | NAWAC
Matt is a Field Researcher and Investigator with the North American Wood Ape Conservancy.
Jen Kruse
Researcher | She-Squatchers
Jen Kruse
Numerous reports from people who've had Bigfoot encounters lead Jen to suspect that it is possible this cryptid might have strong psychic abilities, which could potentially provide us with a unique opportunity to communicate with Bigfoot! As a mixed-blood person, I especially enjoy hearing Native American stories & teachings about Bigfoot & the Little People. When not out searching for Bigfoot in the wild, I am assisting others on my new radio show, THE JOURNEY, we explore the Paranormal, Bigfoot, UFOs, Ghosts, Portals & more.
Tammy Treichel
Researcher | She-Squatchers
Tammy Treichel
As the newest addition to the She-Squatchers team, Tammy is a huge asset! She is an extremely strong psychic, animal communicator, medical intuitive, with clairaudient, clairsentient & clairvoyant abilities. She can visually see energy fields around living beings, perceiving it as colored light. Add to that, this fearless woodsy Minnesota girl feels an immense connection to nature and thoroughly enjoys adventure!
Jena Grover
Researcher | She-Squatchers
Jena Grover
Jena had what appeared to be a very normal Christian upbringing on a farm in Northern Minnesota. After she had a NDE (near-death experience) in 2009 and after she finally awoke from a coma, she felt completely changed by the experience. Life suddenly had new meaning. She has always been interested in Bigfoot, Cryptozoology and the paranormal. All the reports of Bigfoot from all over the world, it's hard to imagine that he's not real, but she is still a skeptic by nature, so she wants that concrete proof. Becoming part of the SheSquatchers team is like a dream come true.
EVENT LOCATION: GATLINBURG CONVENTION CENTER
REFUND POLICY FOR REGISTRATIONS
Once paid, registration fees for the Smoky Mountain Bigfoot Conference are non-refundable.
REGISTRATION CONFIRMATION
Tickets are electronic, Directly after purchase, you can find your tickets under your account,  then go to my orders and you will see a download option for your tickets. You should also receieve an email but check spam as they somehow end up there a lot of the times. Email us at info@gatherupevents.com if you have any trouble. 
HOW TO FIND YOUR TICKETS (VIDEO)