COUNTDOWN TO THE GREAT FLORIDA BIGFOOT CONFERENCE | JULY 10, 2021
'The Skunk Ape' of Florida
Announcing the first annual Great Florida Bigfoot Conference on July 10, 2021, at the RP Funding Center in Lakeland, Florida. Featuring an all-star lineup of Bigfoot researchers, investigators, and authors ready to interact with fans and discuss their experiences and findings.
Headlining this year's event are Cliff Barackman and James "Bobo" Fay. We are also very excited to have local experts Stacy Brown, Robert Robinson, and David Sidoti rounding out the event. Exhibitors will be set up all day with tons of related merchandise.
Doors open at 9 am and we go until 6:30 pm. This event is open to the public but advance tickets are recommended as we cannot guarantee them at the door. Tickets are all day in and out entry but don't miss the end segments as we bring back the full panel of speakers on stage for an interactive Q&A along with a segment of encounters from the audience.
Additional events are planned for the weekend to include a Meet & Greet Dinner on Friday, July 9, 2021, and a couple of other surprises TBA. These events will have limited availability and ticketed on a first-come basis. Email announcements will be sent to all ticket holders first so be sure to check your emails.
Traveling into Florida? Lakeland is located just 42 miles East of the Tampa (TPA) International Airport and just 57 miles west of the Orlando International Airport (MCO).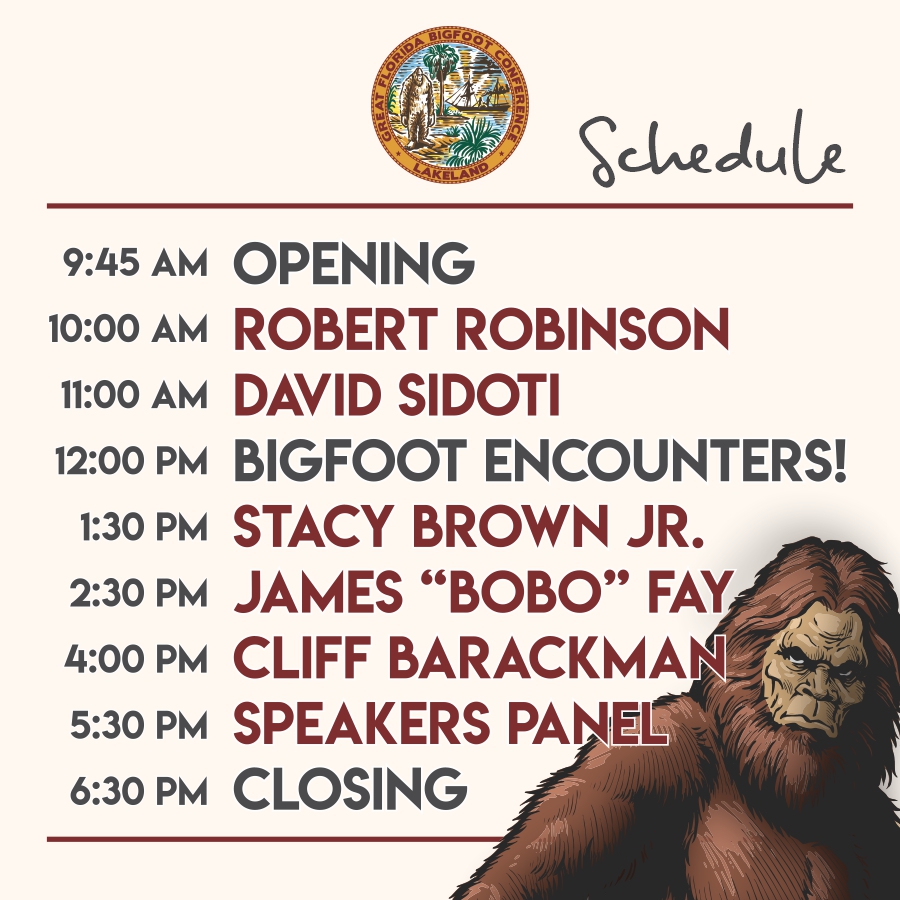 Admission Tickets
Platinum, Gold, Silver & Copper Seating
+ VIP Packages Available!
Vendor Booths
Reserve you Vendor Booth – Less than
20 spots available, Starting at..
Sponsorships
Several levels of Sponsorships
available. Participate for as low as..
Cliff Barackman
Cryptozoologist
Finding Bigfoot
Cliff Barackman
Cliff Barackman was born and raised in Long Beach, California. Throughout his youth, his interests were drawn towards both the physical and biological sciences, as well as music. While Cliff was navigating his life, a growing interest in the Bigfoot phenomena drove him to travel to other parts of the country to look into the mystery. It was in college that Cliff's interest in Bigfoot moved from a quirky interest to an obsession.
Having a sizable break between classes, Cliff started spending time in the college library reading books on his various interests. After researching Bigfoot, he realized that not only was Bigfoot interesting, but it might actually be a real, biological creature.
Cliff had been an avid camper all his life, but around this time he started camping with the singular purpose of doing Bigfoot research. On his first expedition to Bluff Creek, California in 1994, he stumbled across possible Bigfoot footprints, as well as tree damage evidence and a possible hair sample.
James "Bobo" Fay
Cryptozoologist
Field Researcher
Finding Bigfoot
James  "Bobo" Fay
James Fay, or Bobo, was born and raised in Manhattan Beach, California, and has been interested in the Bigfoot mystery for as long as he can remember. As a teen, he became an avid surfer, a skill set he would eventually use to investigate reported Bigfoot sightings in remote areas of the country.
While in college, Bobo spent his downtime in the woods attempting to locate a Bigfoot. Following college, he took logging jobs on Native American crews to absorb their knowledge of the sasquatch legend. In addition, he increased his Bigfoot knowledge by taking jobs building roads and commercially fishing in Northern California.
Bobo saw his first sasquatch while on an investigation with veteran Bigfoot researcher John Freitas in 2001. Since his initial sighting, Bobo claims to have glimpsed Bigfoots on a few other occasions, but it was this first visual sighting that moved him the most.
Stacy Brown Jr.
Bigfoot Researcher
Actor, Director, Musician
Stacy Brown
Stacy Brown Jr. voted 2016's Bigfoot Researcher of the year, spends most of his time searching the swamps for the elusive beast they call the Skunk Ape. Stacy is part of the winning team on Spike TV's, 10 milliondollar Bigfoot bounty. He has also been featured on Animal Planet's Finding Bigfoot, Fox News and the New York Times among others. Stacy got his first start into Skunk Ape research when he and his buddy had an encounter on November 6th, 2011. After becoming enthralled with the subject he and his father were able to capture what some people call the best piece of thermal footage ever caught. To date the footage has not been debunked.
When he's not in the swamp swatting mosquito's, Stacy is making movies.
Robert Robinson
Rob has filmed segments on the Florida Skunk Ape for PBS's "Weird Florida: On the Road Again," "Monsters and Mysteries of America," and "Bigfoot in America" on Destination America channel.
Along with Bigfoot and other cryptids, Robert and his wife Tracy also investigate haunted places, UFO, buried treasure, and mysterious places. Robert is an active member of the following groups; MFON, The International Cryptozoology Society, the British Columbia Scientific Cryptozoology Club, The Ghost Club, the International UFO museum, and the World Explorers Club. He is also the Florida representative for the North American Dogman Project. Robert is an investigator and member of the UFO Hunters of America.
David Sidoti
Independent Sasquatch Research Team
David Sidoti
David started his research journey about these creatures in 1995. He did a lot of air-chair research and self-examination for the next three years on the subject and found there to be a lot more to it than meets the eye. During that time, he read a lot of literature from Dr. Grover Krantz, Dr. Jeff Meldrum, John Green and many others, he also read thousands of eye- witness encounters.
In 1998 David joined up with a large organization for a short term, then in the early part of 2000 he founded "The Independent Sasquatch Research Team". He and his team have been focused on acquiring scientific evidence of these creatures and to try to establish first communication with them.
EVENT LOCATION: RP FUNDING CENTER, LAKELAND, FL
REFUND POLICY FOR REGISTRATIONS: Once paid, registration fees for the Great Florida Bigfoot Conference are non-refundable.
REGISTRATION CONFIRMATION: It is essential that we have your correct email address as we will email you an order confirmation and electronic ticket upon successful registration. You will also receive a Great Florida Bigfoot Conference Information Sheet including Hotel/Venue information BY EMAIL. If you have not received your ticket via email within 1 hour, please check your spam folder. If you did not receive it, contact us at info@gatherupevents.com so that we can assist you.