COUNTDOWN TO THE
FIRST EVER ALASKA BIGFOOT CRUISE
SEPTEMBER 4, 2023
A SQUATCHOLOGIST'S DREAM VACAY!
We are excited to be bringing something truly extraordinary to the Bigfoot community. On September 4th, 2023 the first ever Alaska Bigfoot Cruise will depart from Seattle Washington for multiple stops in Alaska as well as for one stop Victoria, British Columbia.
Over our 7 days together we will have 3-4 morning lectures onboard from the Bigfoot researchers that will be traveling with us. These will be scheduled to end by 11:00am to allow everyone to enjoy the splendor of the cruise itself. On our days in ports we will be scheduling meetings with local enthusiasts and researchers giving them a chance to meet our renowned speakers and you, a chance to ask them about local activity.
Secure your spot ASAP as we will only be holding 200 cabins for this inaugural cruise. Early bird pricing ends January 1, 2023.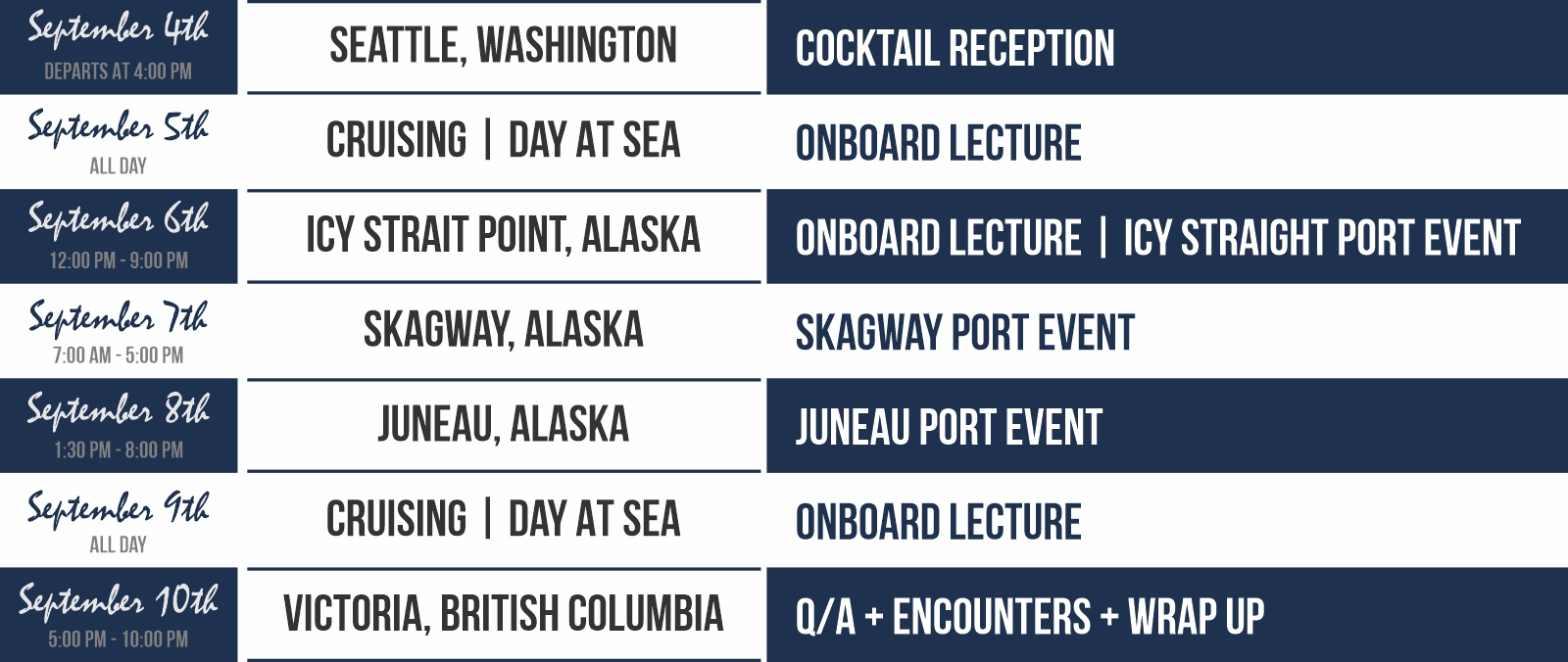 EARLY BIRD TICKETS GO ON SALE AUGUST 22, 2022
Reserve Your Cabin
It all starts here. pick your cabin and get your passes! The early-bird special only lasts till December 31st!
Cruise Merchandise
All Merchandise will be shipped to you 21 – 30 days before embarkation along with your activity pass!
Special Events
Would you like to have a meal with one of our speakers or take a special bigfoot tour? We are working on making that happen.
TENTATIVE 2023 ON-BOARD SPEAKERS
Dr. Jeff Meldrum
Researcher | Author | Professor of Anatomy and Anthropology
Dr. Jeff Meldrum is a professor of anatomy & anthropology at Idaho State University, where he teaches human anatomy in the health-professions programs, and classes in evolution and primatology. His research has taken him from the skeletal cabinets of far-flung international museums, to the remote badlands of Colombia and Argentina in search of fossil New World monkeys.
Russell Acord
Researcher | Author | Filmmaker | Travel Channel's Expedition Bigfoot
As an author and part-time filmmaker, with a full-time job in the Nuclear industry, I also had the privilege to land a role in the Travel Channels series of 'Expedition Bigfoot' with three other serious researchers. It has been an honor to work with such high-level team who truly bring a level of professionalism and experience to the field of Bigfoot research.
TBD
We are still workig on this one! Announcement Coming Soon
TENTATIVE 2023 IN-PORT SPEAKERS
TBD
Announcement Coming Soon
TBD
Announcement Coming Soon
TBD
Announcement Coming Soon
TBD
Announcement Coming Soon
TBD
Announcement Coming Soon
TBD
Announcement Coming Soon
EMBARKATION: SMITH COVE CRUISE TERMINAL
REFUND POLICY FOR REGISTRATIONS
Once paid, registration fees for the Smoky Mountain Bigfoot Conference are non-refundable.
REGISTRATION CONFIRMATION
Tickets are electronic, Directly after purchase, you can find your tickets under your account,  then go to my orders and you will see a download option for your tickets. You should also receieve an email but check spam as they somehow end up there a lot of the times. Email us at info@gatherupevents.com if you have any trouble. 
HOW TO FIND YOUR TICKETS (VIDEO)